International Exchanges
We are actively engaged in internationalization of education and research.
NIT is actively engaged in the internationalization of education research with many international students from Asian countries, and foreign trainees who study Japanese. There are also researchers from overseas universities who frequently visit NIT. We have had international academic exchanges with Huazhong University of Science and Technology in China in 1983 and with King Mongkut's University of Technology Thonburi in Thailand in 1991. We also formed partnership with the University of Illinois in the USA in 1999.
NIT has been involved in many global activities as well. For example, the Department of Architecture engaged in restoring the I Baha Bahi, a Buddhist monastery in Nepal. The university also held an international conference on diamonds, and established an industryuniversity collaboration project with Bekaert (the world)s largest independent wire manufacturer of drawn steel wire products). In 1996, the NIT Inter-cultural Campus in Canada was opened as a place for international cultural exchanges between the two countries and as a facility students may use for accommodation and research.
Recent Academic Exchange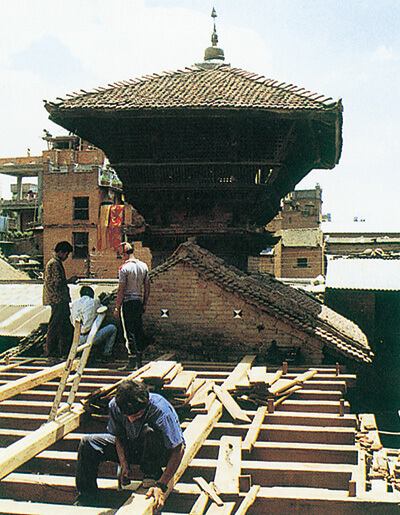 September 2015: NIT research team dispatched to survey damage of World Cultural Heritage in Nepal
NIT has been sending academic researchers to Nepal since 1978. In March 1996, they teamed up with the Nepalese government and completed the restoration of I Baha Bahi (an ancient Buddhist monastery founded in the mid-15th century). As part of the emergency support for the April 2015 Nepal earthquake, NIT set up an investigative team of Emergency Survey and Measures for Architectural Heritage, and dispatched the first group from September 7th until 19th. They surveyed every historical building of the Kathmandu Valley, a World Cultural Site, especially in Patan city, and collected basic data for the architectural structures of traditional buildings and how they were damaged. Three professors, Prof. Takayuki Kurotsu (Architectural History), Prof. Shin'ichi Nishimoto (Architectural History and Restoration) and Prof. Manabu Ueda (Structural Design), took charge of the team and were accompanied by four students along as research assistants.
December 2015: The Vice President of KMUTT visits NIT for workshop education
On December 9th, the vice president for human resources of King Mongkut's University of Technology Thonburi (KMUTT), Prof. Ruenglertpanyakul led a delegation of 5 teachers from KMUTT's attached high school and visited NIT. The purpose of their visit was to see NIT's educational workshop. They received a detailed explanation of NIT's practical education and educational workshop programs, followed by a tour to the Plastic Working Laboratory, Machining Studio and the Formula Studio. KMUTT and NIT also exchanged opinions about manufacturing education in general. They expressed their admiration of NIT's excellent facilities and experienced staff as they toured the workshop and Museum of Industrial Technology.
April 2016: President of Lethbridge College visits from Canada
Dr. Paula Burns, President of Lethbridge College and Mr. Phil Cann, Director of NIT Intercultural Campus in Canada, visited NIT on April 8th. After exchanging greetings with Dr. Narita, NIT President, they visited NIT campus facilities like the Educational Center for Experienced Mechanical Engineering, where various kinds of advanced machine tools, CAD / CAM exercise room are located. They also toured the Museum of Industrial Technology which houses a former town mechanical plant and a high output gas turbine plant which were relocated to our museum. Dr. Burns noticed the building for Department of Living Environment Design has no ceiling, and she was impressed at the reason that it was designed out of respect for the students to see and learn about pipe laying and electrical wiring. At the luncheon after the meeting, President Narita and members of the NIT executive committee held talks with Dr. Burns and Mr. Cann about how to deepen the exchanges between the two entities.
June 2016: Students of China University of Technology from Taiwan visited NIT and had class tours and experimental lessons. (Students from China University of Technology Taiwan visited NIT for a study tour.)
China University of Technology (Taiwan), one of our partner universities, sent 34 students and seven teachers from their Department of Interior Design to tour NIT on June 19th. The next day, June 20th, they attended 2 architectural experimental classes. They visited the staff building designed by Associate Prof. Hua Xu, sat in the class "Making Miniature Furniture" by Prof. Makoto Adachi, and then visited a local community building and an elementary school in Miyashiro-machi. On the 21st, they had a Japanese language class at Bekka, and then on the 22nd, they visited an architectural design class. Finally, they visited sights in Tokyo and Nikko to learn about modern architecture as well as historical architectural buildings. The length of their study tour was 11 nights and 12 days.
Student's International activities
2x4 Architectural Studio in in Crowsnest Pass, Alberta, Canada
2x4 Architectural Studio is the practical learning of architecture through a building workshop at N.I.T. Intercultural Campus in Crowsnest Pass, Alberta, Canada. Our program includes a field survey, design, construction work, and English classes. It also provides students with a chance to experience and understand other cultures, as well as providing the opportunity to communicate with foreign partners.
English Outdoor Program, in Crowsnest Pass, Alberta, Canada
This outdoor education program helps students gain confidence and leadership skills, as well as improving their English. The course is based in Crowsnest Pass, Alberta, Canada. In the morning students have classroom English lessons. Then in the afternoon they participate in confidence building activities outdoors, such as, rafting, horseback riding, and camping. Students stay with a homestay family, which not only gives them a fantastic opportunity to practice their English, but it also gives students a real insight into a foreign culture.
English Program in Vancouver, British Columbia, Canada
In this program students participate in the English course of the University of British Columbia (UBC) for four weeks. This program includes English lessons at UBC and four weeks homestay. The English course at UBC has many international students from all over the world. N.I.T students have the opportunity to learn with other students who come from different universities in Japan and overseas. This program helps students improve their practical English communication skills, to learn about other cultures, and to make friends for life.
List of universities that concluded the mutual agreement with NIT
| | |
| --- | --- |
| Huazhong University of Science and Technology | China |
| King Mongkut's University of Technology- Thonburi | Thailand |
| Kao Yuan Institute of Technology | Taiwan |
| Southern Taiwan University of Technology | Taiwan |
| Lethbridge College | Canada |
| National Chiao Tung University | Taiwan |
| University of Illinois, Chicago | USA |
| Karlsruhe University of Applied Sciences | Germany |
| University of Nottingham, Department of Architecture and Environment | UK |
| China University of Technology | Taiwan |
| Chulalongkorn University | Thailand |
| Ocean University of China | China |